Fire-Fighting for Flammable Liquids & Hydrocarbons (Class B)
Pre-mixed Foam Stations are self-contained
Units require no outside water, foam pumps, or proportioners. Capacities range from 150 to 500 gallons and custom capacity ASME coded tanks can be fabricated (in-house) to customer specifications. Units are offered with LOP (Loss of Pressure) actuation systems and can be configured for manual or automatic discharge.
Pre-Mixed Foam Stations are suited for offshore installations, oil tankers, aircraft hangars, fuel storage tanks, helidecks, pumping stations, land wellsite production and hydrocarbon storage in providing rapid response flame suppression on flammable liquid ignition and pooling spills.
Correctly aspirated foam performs blanketing - to smother & cool pooling hydrocarbon liquid (while additionally acting as a vapor suppressant) to prevent re-ignition. This is why choosing a proven delivery system is of equal importance as the fire-fighting agent being used.
These systems also address limitations experienced with traditional foam proportioners, around-the-pump systems, foam monitors, applicators, and foam concentrate storage tanks.
Variables with other types of systems include inlet pressure, back pressure restrictions, nozzle restrictions, variable flow rates, and mobility, issues not present in our self-contained units.
Standard Corrosion Control Package
All Burner Fire Control equipment is built and protected with our Offshore Corrosion Control Paint System
Components are broken down to individual units prior to application of the corrosion resistant paint finish to ensure all surfaces receive the maximum protection possible. Systems are assembled with stainless steel, brass, and bronze hardware and fittings and these items are additionally protected applying corrosion resistant coatings to each item.
Optional Hose Reel with 100 ft booster hose available (skid mounted)
Cylinders completed with regulator (w/ gauges) to the manifold eliminating pressure leaks
Internally coated pressure vessel to prevent corrosion
ASME code pressure vessel completed with pressure relief safety valve and 4″ fill cap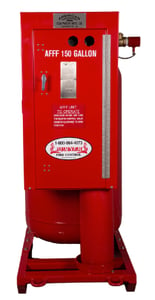 Pre-Mixed Foam 150 Gallon
Protective Cabinet with Inspection Ports
150 Gallon ASME Code Vessel
Remote Hose Reel Capabilities
Independent Cylinder Pressure Regulators
High Volume Flow Regulator with Gauges
1-2″ Independent Discharge
Corrosion Resistant Powder Coat Finish for Offshore Protection
ABS and DNV Approvals on Request
Pre-Mixed Foam 300 Gallon
Protective Cabinet with Inspection Ports
300 Gallon ASME Code Vessel
Remote Hose Reel Capabilities
Independent Cylinder Pressure Regulators
High Volume Flow Regulator with Gauges
2- 2″ Discharge and 1- 3″ Optional
Corrosion Resistant Powder Coat Finish for Offshore Protection
ABS and DNV Approvals on Request
Pre-Mixed Foam 300 Gallon
(shown with hose reel)
Protective Cabinet with Inspection Ports
300 Gallon ASME Code Vessel
Remote Hose Reel Capabilities
Independent Cylinder Pressure Regulators
High Volume Flow Regulator with Gauges
2- 2″ Discharge and 1- 3″ Optional
ABS and DNV Approvals on Request
Pre-Mixed Foam 500 Gallon
Protective Cabinet with Inspection Ports
500 Gallon ASME Code Vessel
Remote Hose Reel Capabilities
Independent Cylinder Pressure Regulators
High Volume Flow Regulator with Gauges
500 – 2- 2″ Discharge and 1- 3″ Optional
Corrosion Resistant Powder Coat Finish for Offshore Protection
ABS and DNV Approvals on Request