MITIGATION OF CLASS A & B FIRE HAZARDS
Stored Energy and Self-Contained
CAFS have been used globally in ordinary combustible Class A fires due to their portability and rapid response characteristics.
Burner CAF systems can also be used to deliver Class B foam used for flammable liquids and hydrocarbons response. The versatility of these systems have been proven by field tested use in multiple applications. Suited for offshore oil and gas facilities, heliports and helidecks, small or large Rapid Response Vehicles, fuel pumping and storage locations, mining, marine vessels and boats, racetracks, fracking and frac tank protection, airports, forestry, parking garages, and emergency fire response for high density events.
CAF Systems Manufactured by Burner Fire Control
The performance of Compressed Air Foam Systems has been proven to more effectively suppress fires in a variety of environments.
Applications for heliport and helideck fire protection per CAP 437, shale liquids and gas fracking sites, refracking, land production facilities, offshore topside deck arrangements, and aviation related hazards have specifically been increasing adoption of increased fire fighting capabilities. Our hand-truck, cart and skid mounted hose reel foam systems are self contained and stored energy, eliminating the need for an outside agent or propulsion source. Units are designed and completed to the same standards as our full line dry chemical powder, and foam equipment to make them withstand the harshest environmental conditions.
Portable Compressed Air Foam Fire Suppression Systems (16-30 gal)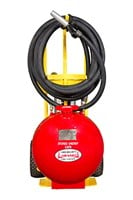 CAFS 16
Suitable for rescue operations in small fire fighting vehicles, airports, and public buildings, heliport fire protection (CAP 437 Compliance), transportation fuel locations, refinery & petrochemical sites, coal mines
16 Gallon Portable Mobile Compressed Air System

Internally Coated Tank

Mounting: Heavy Duty Hand Truck

50 foot Discharge Range
CAFS 21-H
Suitable for rescue operations in small fire fighting vehicles, airports, and public buildings, heliport fire protection (CAP 437 Compliance), transportation fuel locations, refinery & petrochemical sites, coal mines
21 Gallon Portable Stationary Compressed Air Foam System
Internally Coated Tank
Mounting: Horizontal Stationary Rack
50 foot Discharge Range
CAFS 21-V
Suitable for rescue operations in small fire fighting vehicles, airports, and public buildings, heliport fire protection (CAP 437 Compliance), transportation fuel locations, refinery & petrochemical sites, coal mines
21 Gallon Portable Stationary Compressed Air Foam System
Internally Coated Tank
Mounting: Vertical Stationary Rack Mount for Compact Area
50 foot Discharge Range
CAFS 30
Suitable for rescue operations in ATV rapid response fire fighting vehicles, airports, public buildings, heliport fire protection (CAP 437 Compliance), transportation fuel locations, refinery & petrochemical sites
UL 20A: 120B Compliant Certificate
30 Gallon Portable Compressed Air Foam System with Hose Reel
Internally Coated Tank
Mounting: Skid
75 foot Discharge Range
CAFS 30-C
Suitable for rescue operations in ATV rapid response fire fighting vehicles, airports, public buildings, heliport fire protection (CAP 437 Compliance), transportation fuel locations, refinery & petrochemical sites
UL 20A: 120B Compliant Certificate
30 Gallon Portable Compressed Air Foam System with Hose Reel
Internally Coated Tank
Mounting: Heavy Duty 8-Wheeled Cart
75 foot Discharge Range
Semi-Portable Compressed Air Foam Fire Suppression Systems (60-200 gal)
CAFS 60
Suitable for rescue operations in fire fighting vehicles, airports, public buildings, heliport fire protection (CAP 437 Compliance), transportation fuel locations, refinery & petrochemical sites
60 Gallon Semi-Portable Compressed Air Foam System with Hose Reel
Internally Coated Tank
Mounting: Skid
75 foot Discharge Range
CAFS 60-P
Suitable for rescue operations in fire fighting vehicles, airports, public buildings, heliport fire protection (CAP 437 Compliance), transportation fuel locations, refinery & petrochemical sites
60 Gallon Semi-Portable Compressed Air Foam System with Hose Reel
Internally Coated Tank
Mounting: Skid
Designed with 1-1/2″ Pre-Connect with additional Lay-Flat Hose and Rack
75 foot Discharge Range
CAFS 60-M
Suitable for rescue operations in fire fighting vehicles, airports, public buildings, heliport fire protection (CAP 437 Compliance), transportation fuel locations, refinery & petrochemical sites
60 Gallon Semi-Portable Compressed Air Foam System with Hose Reel
Internally Coated Tank
Mounting: Skid
Military Package
75 foot Discharge Range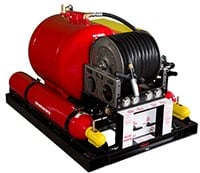 CAFS 100
Suitable for rescue operations in fire fighting vehicles, airports, public buildings, heliport fire protection (CAP 437 Compliance), transportation fuel locations, refinery & petrochemical sites
100 Gallon Semi-Portable Compressed Air Foam System with Hose Reel
Internally Coated Tank
Mounting: Skid
75 foot Discharge Range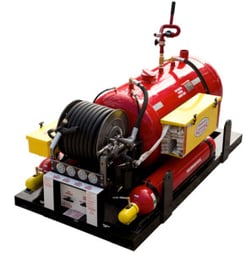 CAFS 200
Suitable for rescue operations in fire fighting vehicles, airports, public buildings, heliport fire protection (CAP 437 Compliance), transportation fuel locations, mining, refinery & petrochemical sites
200 Gallon Semi-Portable Compressed Air Foam System with Hose Reel
Internally Coated Tank
Mounting: Skid
75 foot Discharge Range
Helicopter transport capabilities