We perform certified inspections for fire and gas equipment globally
Burner Fire Control maintains a team of personnel with the highest level of Offshore and Land expertise to serve the world's largest and most respected companies.
We perform certified inspections for fire and gas equipment globally.
Our technical management staff has over 100 years of combined experience in the fire protection industry. With a deep commitment and to safety, reliability, and integrity, we ensure the maximum protection for your personnel and project assets.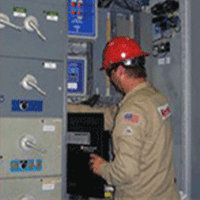 Our Fire Fighting Equipment Inspection, Fire Fighting Equipment arrangement Surveys, Safety Inspection, Fire Equipment design and manufacturing, and PPE sales and rental capabilities have proven to provide the resources needed to meet and exceed compliance and safety requirements.
We perform Pre-USCG Surveys, BSEE Inspections, Fire Equipment, and Safety Inspections for the majority of operators in the Gulf of Mexico.


ABS Approved Service Supplier
Burner is an approved service supplier ABS to perform Surveys, Inspections and Maintenance Service of Fire Extinguishing Equipment, Systems, and Self-Contained Breathing Apparatus on Ships, High Speed Light Craft, and Mobile Offshore Drilling Units.
We have strengthened our capacity to accommodate the most complex and high-profile projects presented to us.
Burner proudly stands behind its years of experience and customer service to provide a positive impact on your company's performance goals by helping to ensure the safety of our client's operational environments.
Burner Fire Control is fully OEM trained and certified for numerous companies to include:
Kidde
Chemgaurd
Tyco
Mircom
Detcon
MSA
RKI
Amerex
General Monitors
Buckeye
Drager
Firetrace