RigSafe Heliport Fire Fighting Units
Fully Self-Contained Systems
CAFS - Compressed air foam for heliports & helidecks
The CAFS Heliport Unit is designed to operate electronically or pneumatically (requiring no outside power source) via a skid-mounted control panel with battery backup for redundancy. The fire fighting unit is self-contained – also eliminating the need for outside source of water or foam. Remote pull stations can also be installed for remote activation.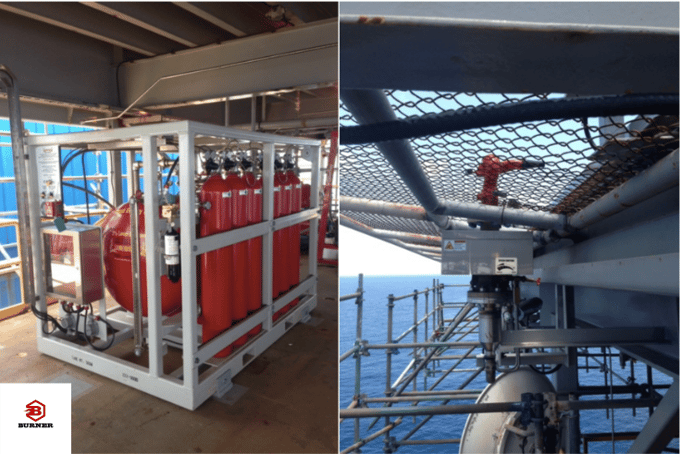 Initial Design and Client Delivery
In 2016, Shell Aviation conducted an audit on 4 major Shell Pipeline (SPLC) Offshore Platforms located in the U.S. Gulf of Mexico.
Two critical upgrade projects were commissioned between Shell Aviation, Shell Engineering, SPLC, and their contracting partners (Bay Offshore, OMC, Shamrock, Audubon Engineering, and Burner Fire Control) for on-time completion.
The scope consisted of several infrastructure upgrades under a multi-million dollar capital budget for each site, including installing multiple Compressed Air Foam System (CAFS) skids to automatically spray foam during helideck fires, upgrading jet fuel systems, installing multiple routes of new drain piping over three stories, new helideck panels and lighting, repainting of both helidecks, as well as conducting appropriate structural assessments for SPLC's expanded fleet of helicopters.
Preliminary Factory Acceptance Test (FAT) was conducted in June 2016 at LSU Fire and Emergency Training Institute for the Helideck CAFS Units. The purpose of the test was to record data for equipment operation and performance of the Helideck CAFS Unit in regards to area coverage, nozzle sweep, and discharge time. Unit testing and data recorded met or exceeded all SPLC requested specifications. Systems for each facility were delivered to SPLC Operations and installed 2H 2017.
General Framework for Compliance
Governing codes determined by the Authority Having Jurisdiction (AHJ) can vary by the circumstances and region of equipment installation.
The National Fire Protection Association (NFPA) created NFPA 418 Standard for Heliports. However, the United States Coast Guard (USCG) Department of Homeland Security (DHS) created Title 46 Part 108 that includes section 486 Fire protection for Helicopter Facilities.
The Civil Aviation Authority (CAA) uses CAP 437 the Standard for Offshore Helicopter Landing Areas which contains Chapter 5 Helideck Rescue and Fire Fighting Facilities.
The Federal Aviation Authority (FAA) relies on both NFPA 418 and CAP 437 while the International Civil Aviation Organization created the Heliport Manual Doc 9261 – AN/903. This ICAO manual contains chapter 6 Rescue and FireFighting.
Finally the International Maritime Organization (IMO) developed the code for the construction and equipment of mobile offshore drilling units, which includes Chapter 9 Fire Safety.
All of these standards all rely heavily on the use of foam as the primary means of suppression due to the present hazard of fuel fire. The ICAO standard recognizes that foam agents, specifically Level B performance foams as defined by paragraph 8.1.5 in the airport Services Manual (Doc 9137), part I – Rescue and Fire Fighting, are primary agents. While Dry Powder, Halons, and CO2 are considered complementary agents.
Cap 437 Section 2.8 states that whenever non-aspirated foam equipment is selected during design, additional equipment capable of producing aspirated foam for post-fire security/control should be provided. Even if not required, it is advantageous to have a CAFS as the fire is likely to be a 3- dimensional pool fire and CAFS have proven to be more effective against this fire type than the conventional foam systems.
In addition, provisions are further made for the use of CAF in Chapter 5 Appendix D. Note 5 Stating: Where a Compressed Air Foam System (CAFS) meeting Performance Level B is selected in lieu of standard foam, the capacity and application rate may be accordingly reduced. *The minimum requirements for CAFS are shown within the bracketed values in the table included with the standard. Harmonization of governing standards and client requirements are achieved through system system performance adjustments for each installation.