MITIGATION OF CLASS A, B, C FIRE HAZARDS
Burner Twin-Agent Dry Chemical plus Foam Systems combine the effective response of our Dry Chemical Skid Units with added flame, cooling, and blanketing vapor mitigation of pre-mixed foam suppressant.
Integrated foam vessel can be configured for pre-mixed foam (AFFF) or compressed air foam (CAFS). All Twin-Agent Fire Protection Skid Units are designed and manufactured by Burner Fire Control. All Twin Agent Units can be certified with ABS and DNV Approvals on request.
The dual agent application is the most effective tool for mitigating extreme risk areas with multiple hazards, Flammable Liquids, Gas, and Hydrocarbons.
These units have been designed and built from the ground up for offshore applications and extreme hazard areas and suited for Offshore Oil & Gas Facilities, Marine Vessels, Aviation, Heliports, LNG Vessels and Land Wellsite; Production & Frac locations.
TWIN AGENT SKID 200/80
200 LB Purple K Dry Chemical 80 GAL Pre-Mixed Foam or CAFS
ASME Code Pressure Vessel
Effective on flammable liquid and gas fires
Vertical or Horizontal mounting option
Independent or Simultaneous discharge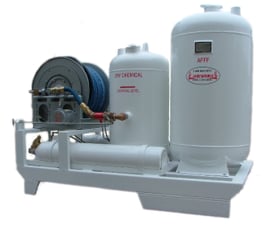 TWIN AGENT SKID 450/150
450 LB Dry Chemical 150 GAL Pre-Mixed Foam or CAFS
ASME Code Pressure Vessel
Effective on flammable liquid and gas fires
Vertical or Horizontal mounting
Independent or Simultaneous discharge
White Finish Shown (all finishes available)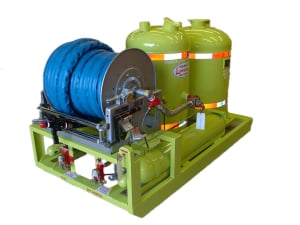 TWIN AGENT SKID 450/150
FAA 139 Compliant AIRPORT RESCUE SKID
Custom Built for ARFF – FAA Yellow Finish
ASME Code Pressure Vessel
450 LB Dry Chemical 150 GAL AR-Foam
Effective on flammable liquid and gas fires
Vertical or Horizontal mounting option
Independent or Simultaneous discharge
TWIN AGENT SKID 1000/150
1000 LB Dry Chemical 150 GAL Pre-Mixed Foam or CAFS
ASME Code Pressure Vessel
Effective on flammable liquid and gas fires
Independent or Simultaneous discharge
TWIN AGENT SKID 3000/200
3000 LB Dry Chemical 200 GAL Pre-mixed Foam or CAFS
ASME Code Pressure Vessel
Effective on flammable liquid and gas fires
Independent or Simultaneous discharge