MITIGATION OF CLASS A, B, C FIRE HAZARDS
Dry Chemical Systems are designed and fabricated for use in offshore & marine applications.
Burner's presence in the offshore energy market has given our Dry Chemical Systems a 40-year track record of field use on drilling rigs, production platforms and other offshore facilities. Our systems are built-to-order adhering to strict specifications meeting project deadlines for our global customers.
Constant Discharge and Remote Hose Reel Installations
Unique from any other system on the market, the patented expulsion systems allows each hose reel to obtain the chemical through independent discharge tubes affording a constant discharge rate on demand.
With a plurality of discharge tubes individually controlled, many optional installations with isolated discharges are possible.
With individual manual control discharge valves to each hose reel on the skid unit, either hose reel can be actuated without charging the hose reel not in use. Either hose reel located in a remote location can be actuated independent of the other remote reel and the remaining reels on the skid unit.
All Dry Chemical Systems can accommodate single person manual operation or configured for automatic discharge
Hose-reel auto actuated systems can be built to specifications required.
*Hand hose line extinguishing system units are intended to supplement fixed nozzle extinguishing system units or to supplement portable fire extinguishers for the protection of specific hazards for which dry chemical is a suitable extinguishing agent.
Dry Chemical Applications
Dry Chemical Systems

effectively extinguish class A, B and C hazards (using ABC or Purple K potassium bicarbonate agents) for Flammable Liquids, Gases, and Electrical Fires. Units have been designed and built from the ground up for offshore applications and extreme fire hazard areas. Large capacities are effective when a sustained attack is required.
Ships transporting bulk liquefied natural gas (LNG) are recommended to be fitted with dry chemical protection protect the deck and cargo areas and all loading station manifolds. These Dry Chemical Deck Systems are composed of independent strategically placed nitrogen propelled self-contained skid units.
The systems can be configured with hose reels mounted on the unit in addition remote hose reels. Suited for Offshore Oil and Gas Facilities, Marine Vessels, and Fuel Storage Locations, and FPSOs – Floating Production and Storage units
**Dry Chemical Skid deck systems effective on LNG and LPG fires (American Bureau of Shipping 141, "Guidance Notes on Fire Fighting Systems"). Systems conform to IMO – International Maritime Organization
Standard Corrosion Control Package
All Burner Fire Control equipment is built and protected with our Offshore Corrosion Control Paint System
Components are broken down to individual units prior to application of the corrosion resistant paint finish to ensure all surfaces receive the maximum protection possible. Systems are assembled with stainless steel, brass, and bronze hardware and fittings and these items are additionally protected applying corrosion resistant coatings to each item.
Burner Provides full DCP Systems evaluation, testing, and training. Systems can be certified with ABS and DNV Approvals on request.
DRY CHEMICAL SKID 350
Capacity: 350 lb.
ASME Code vessel
(DNV and ABS Certification on Request)
Pressure Safety Relief
Optional Pressurized extinguisher cylinder
Primary and Backup DOT/ISO nitrogen supply cylinders
Independent regulators with gauges
Primary Hose Reel with Booster Hose
Remote hose reel capability
DRY CHEMICAL SKID 500
Capacity: 500 lb. (226.7 kg)

ASME Code vessel




(DNV and ABS Certification on Request)

Pressure Safety Relief

Optional Pressurized extinguisher cylinder

Primary and Backup DOT/ISO nitrogen supply cylinders

Independent regulators with gauges

Primary Hose Reel with Booster Hose

Remote hose reel capability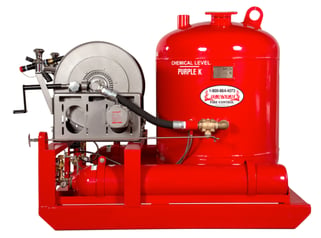 DRY CHEMICAL SKID 1000
Capacity: 1000 lb. (453.5 kg)

ASME Code vessel




(DNV and ABS Certification on Request)

Pressure Safety Relief

Optional Pressurized extinguisher cylinder

Primary and Backup DOT/ISO nitrogen supply cylinders

Independent discharge tubes

Independent regulators with gauges

Primary Hose Reel with Booster Hose

Remote hose reel capability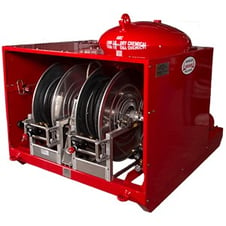 DRY CHEMICAL SKID 1500
Capacity: 1500 lb. (680.3 kg)

ASME Code vessel




(DNV and ABS Certification on Request)

Pressure Safety Relief

Optional Pressurized extinguisher cylinder

Primary and Backup DOT/ISO nitrogen supply cylinders

Independent discharge tubes

Independent regulators with gauges

Primary Hose Reel with Booster Hose

Remote hose reel capability
DRY CHEMICAL SKID 2500
Capacity: 2500 lb. (1133.9 kg)

ASME Code vessel




(DNV and ABS Certification on Request)

Pressure Safety Relief

Optional Pressurized extinguisher cylinder

Primary and Backup DOT/ISO nitrogen supply cylinders

Independent discharge tubes

Independent regulators with gauges

Primary Hose Reel with Booster Hose

Remote hose reel capability