Burner Fire Control provides comprehensive fire protection, radiant heat suppression, and special hazard mitigation solutions for any facility or vessel.
Offshore Well Operations face unique safety challenges that require unique solutions by capable service providers. Drilling, Testing, and Production Well phases require comprehensive hazards identification and mitigation plans, personnel, and equipment.
With over 40 years of experience in offshore & marine safety, Burner Fire Control has deployed our solutions to the majority of facilities in the shelf and deepwater Gulf of Mexico.
Burner Fire Control's first water shield heat suppression system was engineered in the early 1980's in partnership with Amoco Production Company to address personnel exposure and facilities damage from the increasing number of high-rate well tests.
The success of these early systems prompted interest of Shell Oil Technology Center in Houston who invested a team of resources to assist full development of the Water Curtain® into the industry's FIRST engineered offshore facilities heat suppression system.
The Water Curtain® continues to be the domestic market leader proving Burner's managed service solution to be the best deluge heat protection during high rate and extended well test flaring.
Flare Heat and Thermal Radiation can become significant during high rate and extended well test operations (EWTs) on MODUs and other offshore facilities. Burner's first priority as an organization is the protection of personnel, health, and clients assets. As API provides guidelines for recommended practices in 521 for heat radiation thresholds.
In conjunction, ABS recommends "Flares and burner booms are to be arranged such that the incident heat (short duration) on critical surfaces does not exceed 4.73 kW/m2 (1,500 BTU/hr/ft2) (including solar radiation). The use of heat shields and water spray cooling system (water curtain) will be specifically considered." (Guide for Well Test Systems, 13.3, ABS, 2010).
Burner's goal is not only to meet compliance with these practices, but exceed these standards with our knowledge through decades of heat suppression project experience with the top testing companies and largest operators in the world.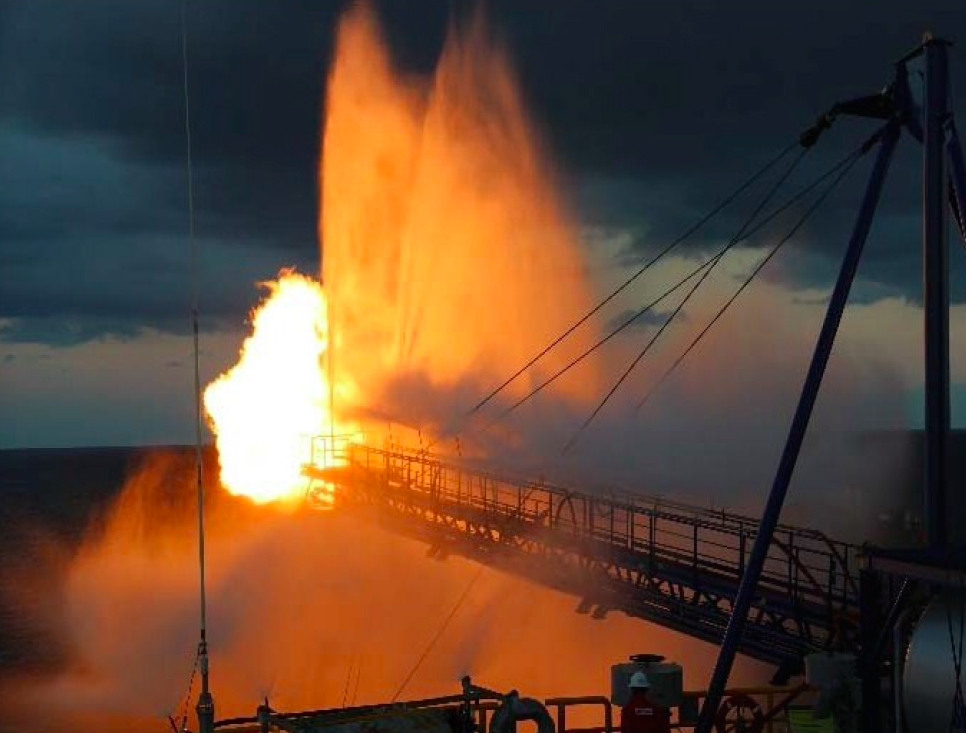 WATER CURTAIN® RADIANT HEAT SUPPRESSION
Water Curtain® Full Package
When Total Facilities Cooling is required, Water supplied by Burner Fire Control – This scenario applies when volume and pressure of rig water supply is insufficient. Booster Pumps and Electric Submersible Pumping System (ESP) package is required.
Water Curtain® Flare Boom & Rigside Cooling Package
Total Facilities Cooling, Water supplied by rig – This scenario applies when volume of rig water supply is sufficient. Additional pressure for Total Facilities Cooling is supplied by Water Curtain Booster Pumps.
Water Curtain® Burner Boom Nozzle
Boom Cooling, Water supplied by rig – This scenario applies when volume of rig water supply is available and sufficient to supply Water Curtain Boom Nozzle for Boom and Flare Cooling only.
Certified Personnel
Water Curtain® Certified Fire & Heat Suppression Technicians
Water Curtain® Certified Fire & Heat Suppression Supervisors
Water Curtain® Certified Fire & Heat Suppression Project Managers (Land-based)
Heat Suppression & HAZID Surveyors
Equipment Rental
Electric Submersible Pumps
Centrifugal Booster Deck Pumps
Conventional and FPSO Fire Water Pumps
Steam Generators
Water Curtain® Boom Nozzles
Full Fabrication Capabilities
Custom Piping
Equipment Racks & Skids
Submersible Pump Deployment Caissons
Additional Fire & Safety Equipment Rental (not limited to)
Portable Foam Monitors
Fire Fighting Foam
Dry Chemical & Foam Portable, Wheeled, and Skid Units
Methanol Tank Fire Protection Systems
Xylene Fire Protection Systems
Rig & Vessel Deployment List (not limited to)
Rowan Gorilla III, Ensco 8500, Diamond Ocean Monarch, Ocean Blackhawk, Rowan Resolute, Ocean BlackHornet, Noble Bob Douglas, Ocean Titan, Discoverer Enterprise, BP Thunder Horse, Helix Q5000, Nabors 657, BOA Deep Sea, Discoverer Clear Leader, Discoverer Conquerer, Ensco 7500, Ensco 8505, Maersk Viking, Deepwater Champion, Glomar Explorer, GC Polar Queen, Solstad Normand Flower, MSV Ocean Alliance, DSV Ocean Patriot, Rowan Gorilla V, Rowan Gorilla II, Transocean GSF Galaxy II