7 min read
Compressed Air Foam Systems: What You Need to Know
By: admin May 30, 2017 5:07:06 PM
Response Time will always be a key performance indicator and a metric that any agency or organization strives to improve when dealing with personnel safety and asset protection.
For Fire Rescue teams, response time and mitigation are affected by many variables that typically present themselves in different ways on every call-out. As with every kind of protection arsenal, arming our men and woman in service with the most effective tools stays critical and necessary. For Fire Emergency Response, one of those tools has undoubtedly been Compressed Air Foam Systems (CAFS).
Compressed Air Foam Systems (CAFS)
The proven studies and effectiveness of Compressed Air Foam on fires is nothing new. In fact, CAFS technology was first introduced in the early to mid-1970s and specifically used for wildland firefighting.
Recent independent research and testing can be found through Internet searches and have been conducted by a variety of organizations. Simply stated, the consensus is that a Compressed Air Foam and water mixture on (A and B) class fires IS more effective that water alone. How much more effective? That depends.
In any testing scenario, a key baseline is "all things being constant". The fluctuation in operator skill level and equipment definitely has some impact on how much of the foam mixture can make it to the appropriate regions of the fire for extinguishment. With that said, the majority of the fully completed testing concluded with results of improvement calculated at 15 to 30 times more effective. With these kinds of results, why has the adoption of CAFS into every emergency response team been so slow?
The Delivery System
The question above brings us to the delivery system. What kind of hardware can deliver the Compressed Air Foam and water mixture to the fire with enough distance and volume to be effective? In addition, the internal technology of these systems must leverage the high expansion properties of the foam by injecting air into the solution to maximize the foam's fire, heat, and vapor suppression characteristics, increasing the extinguishing effectiveness of the latent water.
Mobility, customization, and affordability have been other challenges that have typically precluded a large majority of municipal and volunteer Fire Rescue teams from having access to these systems.
A fire equipment manufacturer based out of Broussard, Louisiana continues to develop and manufacture a line of CAFS that prove to be the best performing and most reliable equipment on the market. The Company has been manufacturing industrial grade fire equipment for over 4 decades for the top companies in Oil, Gas, and Petrochemical, and has delivered these units to over 27 countries.
The first systems developed included a range of self-contained large capacity dry chemical, foam, and dual agent systems, operating individually or in tandem with each agent. All of the units are designed to be fully mobile and customizable for fixed installation or mounted on any vehicle, apparatus, or trailer. Smaller capacities are optionally mounted in a wheeled unit orientation or mobile cart.
Today, this full line of fire equipment, is one of the most expansive and versatile in the world. This equipment line includes 7 different standard capacities of Compressed Air Foam Systems that are specifically geared for rapid and emergency fire response teams.

Even with a full range of standard sizes, the company offers the ability to customize size (up or down), mounting orientation, and optional integrated features as needed for the client's specific application. All CAFS fire equipment is totally self-contained, requiring no external power, water, or air – full operability is built into each system package. Units are finished with a powder coat system providing internal and external corrosion prevention for extended protection in the most extreme environments.
User Friendly Design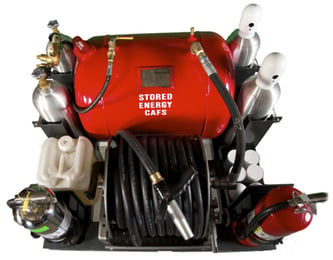 To ensure a very short operation learning curve, the idea of a simple and easy-to-operate fire suppression unit is a hallmark of these systems. The choice of foam class (A or B) is determined by the operator when unit is put in service, (and can be changed per use based on protection protocol). Operation is simply initiated by opening the air cylinder, charging the agent tank, followed by charging the hose.
The Compressed Foam is produced within the system prior to discharge. Servicing is comprised of relieving all residual pressure, refilling the foam and water mix, recharge the air cylinder, and rewinding the hose for the next use.
Versatility
The role that a CAFS unit can play is just as flexible as the unit itself. They have been designated for stand-alone use strategically placed on any facility, and also installed (temporarily or permanently) on vehicles that did not previously have fire protection capabilities other than hand portable extinguishers.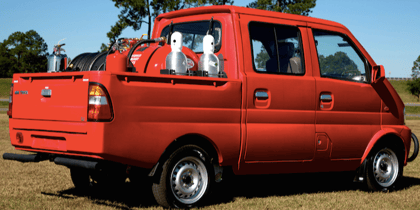 Offering a wider variety of options to first responders is key. Enabling them to put together a custom, cost-efficient superior fire-fighting package that makes sense for their team, geography, and target coverage area has been long overdue.
For further information, please send us a message via the contact page, or call us at (800) 864-4073 or click below to connect with us.

---
Burner Fire Control delivers complete fire protection for onshore and offshore operations as well as safety, construction, fabrication, and maintenance services. Each person on our technical management team has an average of 25 years in the industrial & marine fire safety field experience.
These skills plus the industry's most respected certifications, our growing list of client credentials, and expertise in both the offshore and onshore fields make us one of the most unique privately-held organizations in the oilfield services sector.